Happy Mothers Day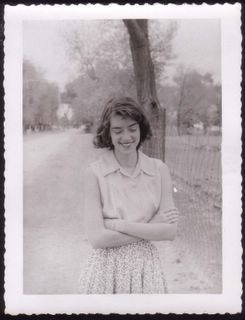 Mom, about 1952-

* I'm posting this early, as I may not be writing this week due to expected company *
My mother Dorothy Murray Warren Nicht was born in Maryland, in October 1932.
As a child, she lived on her Grandfather Murray's farm. Her memories of childhood spent on that farm consisted of running, quite fast, down a slope and breaking an arm. There was also the dreadful
chicken incident
where she learned just why it wasn't a good idea to name any of the resident chickens, which is also the day she refused to eat that particular Sunday dinner.
Mom attended nursing school, and almost graduated. She realized this wasn't a good career choice while attending a thumb amputation surgery. Fainting didn't bode well for a future nurse.
She was later a student at Towson, working toward a teaching degree; but as was common in those days, she fell in love, married, and quit school.
My mother gave birth to four children, and was lucky enough to stay home and care for us.
This woman never
ever
cussed... except once. Mom was driving, with us children, when another driver cut her off. She slammed on the brakes, and out of her mouth came the word
shithead
! We were totally shocked, but began giggling after recovering from the horror that
our
mother had said a bad word!
She went back to college to pick up the three units she was short, when we were older. An interest in Hospice care ensued, and she dived into more classes.
My father passed away, at the age of 59, in 1992. She followed several months later, also at the age of 59. We all feel she died of a broken heart.
Of course my mother is much missed. Her unfailing love and sense of humor most of all.
I can see (in my mind's eye) my mother watching from afar. And you know what she's saying whenever one of her children suffers the slings and arrows thrown by others...
"shithead!"
Shithead Indeed!